Cyberpunk 2077 has had a rough and problematic launch. Even this past sentence can be an understatement as the game has been slated for an abundance of bugs and missing features. As well as Console refunds followed by the game being pulled off from the PlayStation Store.
CDPR released an official apology last night on YouTube, announcing the rocky road ahead for Cyberpunk 2077. The video was uploaded to the Cyberpunk 2077 YouTube channel. Featuring joint CEO Marcin Iwiński who went on to express an apology to fans of CDPR and Cyberpunk 2077 players.
Iwiński stated that he was sorry for breaking the trust of console owners and everyone who had trusted CDPR enough to pre-order Cyberpunk 2077.
Furthermore, Marcin Iwiński pulled CDPR developers out of the fire explaining that the low quality of the game was in fact a fault of his own and the leadership at CDPR.
"I and the entire leadership team are deeply sorry for this and this video is me publicly owning up to that."
You can watch CDPR's apology here
The Long Road Ahead for Cyberpunk 2077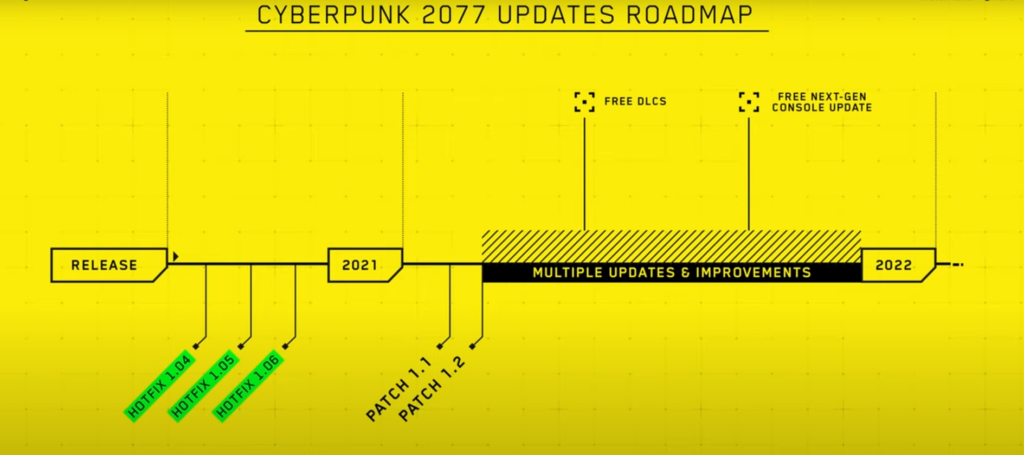 Not only did Marcin Iwiński apologize for the quality of Cyberpunk 2077, the joint CEO of CDPR gave a brief look into the upcoming updates for the game. Fans will be happy to know that CDPR is committed to fixing the issues of Cyberpunk 2077:
"Our ultimate goal is to fix the bugs and crashes gamers are experiencing across platforms. Please expect bigger and smaller patches on a regular basis."
Marcin Iwiński confirmed that an update for Cyberpunk 2077 will be released next week followed by more substantial updates in the weeks after. The CDPR joint CEO additionally shed light upon the upcoming free DLC.
Explaining that originally the DLC was meant to release shortly after the launch of Cyberpunk 2077. However, due to CDPR focusing on fixes and updates, fans should expect to hear more information on the DLC in the coming months.
However, we can speculate that the free DLC will arrive somewhere mid 2021. As Marcin Iwiński stated that a free next-gen console update is planned to launch after the release of the free DLC in the "second half" of 2021. You can get Cyberpunk 2077 for $35 here or here.
Can CDPR Win you Back?
If you played the game tell us how you feel about this apology. Did Marcin Iwiński win you back over? or are you still giving CDPR the silent – or not so silent- treatment?.
If you found this article useful why not check out our other spicy articles such as Hogwarts Legacy Delayed until 2022, Warner Bros. Announces. Or EA Will No Longer Be the Exclusive Publisher of Star Wars Games.