Just less than a week before the launch of Cyberpunk 2077, some lucky few have already got their hands on review copies. Naturally, games on the scale of Cyberpunk 2077 (Pre-order Cyberpunk 2077 for only $49.94 !! here or here) are going to contain their fair share of bugs. CDPR made some time for more polish by pushing back the release date to December 10th to ensure that Cyberpunk 2077 would run smoothly on the Xbox One, PS4 and next-gen consoles.
Consequently, CDPR have released a 43GB pre-launch patch as a reviewer of Cyberpunk 2077 DreamcastGuy displayed a photo on Twitter showing the 43GB patch for the game. Interestingly CDPR PR manager Fabian Mario Döhla replied to the post stating: "It's an update but – fun twist – not the update we'll have for launch". Highlighting that Cyberpunk 2077 will be including a separate day one patch.
Cyberpunk 2077 Getting Bigger & Bigger
We can expect to get a sizeable day one patch for the game, from looking at the pre-launch update. Showing that Cyberpunk 2077 (Pre-order Cyberpunk 2077 for only $49.94 !! here or here) should be expected to be around the 100GB mark. Gamers with weak internet connections are unfortunately going to have a rather long wait before they can play the game. However, CDPR have announced the preload dates so you can get a head start. Making the day one patch a bit easier on the old router.
PlayStation – December 8th,
Xbox – December 3rd
PC – December 7th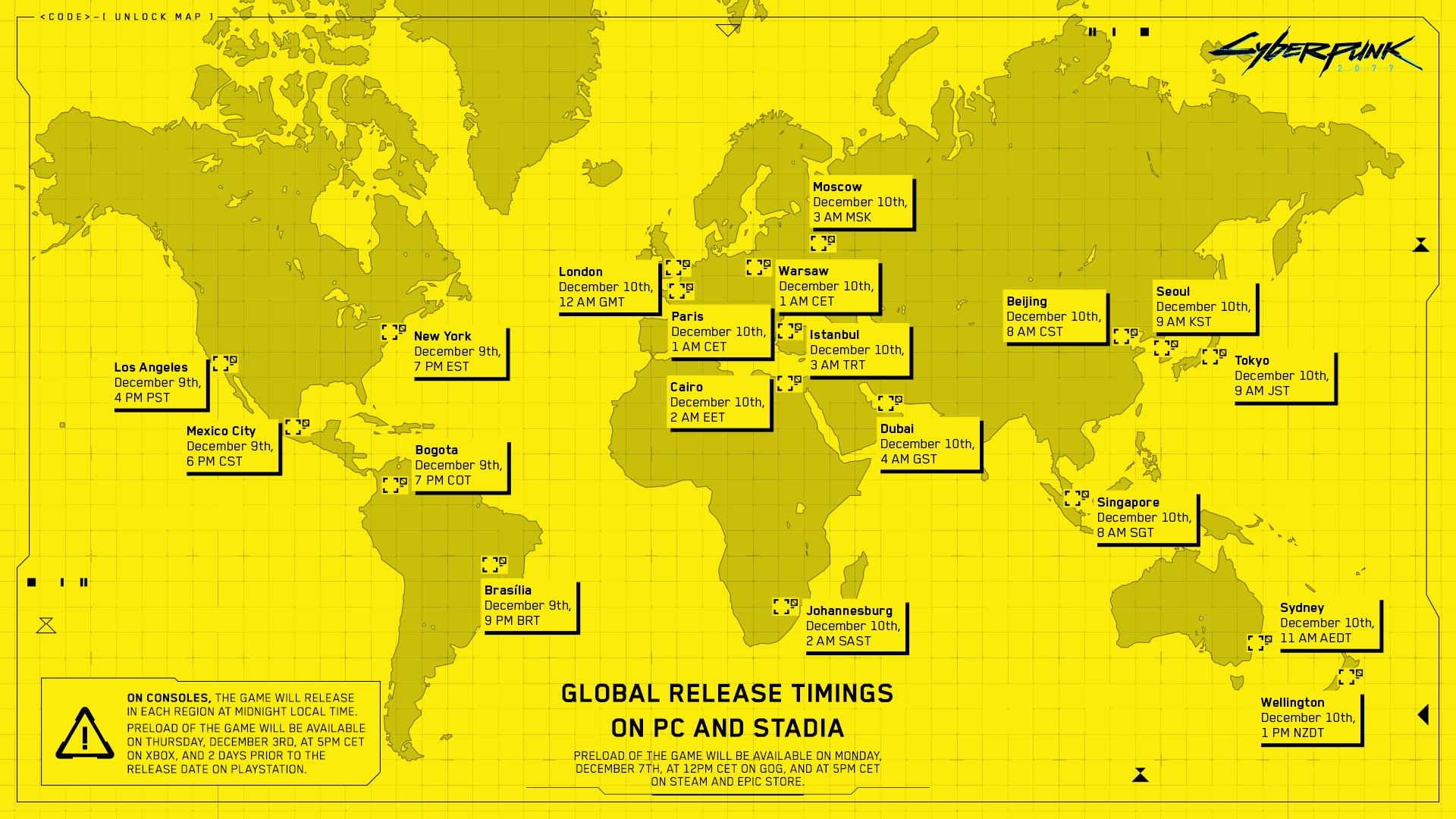 Day One Patches
Day one patches have become a common trait in the gaming industry, as a result of games going "gold" months before disc printing to be able to get the game on shelves for release. Therefore, any bugs or glitches fixed by the developer must be implemented in a day one patch to update the game with the fixes.
CDPR have been working hard to make sure the game has a smooth launch and reviewers can play the game with fewer bugs. So the 43GB pre-launch patch would make sure that a reviewer's experience reflects that of the game that consumers will experience.
Cyberpunk 2077 Steam Pre-order Exclusive
It was recently announced that gamers who pre-order the game on Steam will receive an exclusive short story written by Cyberpunk 2077 Story Lead, Tomasz Marchewka. Along with Steam avatars and posters.
If you found this article useful why not check out our other work such as Streamer beats Vanguard Demon in Demon's Souls Using Donkey Kong Bongos. Or take a look at Major upcoming updates for Sea of Thieves.