Epic Games holiday sale is back again this year and with it brings lots of new deals and free games. Epic will be giving 15 games away, one each day, starting today, December 17th. Epic also is having a deal on it's store that can be as high as 75% off. The distribution of free games have already started with the first game for the line up being Cities: Skylines. Users will have only 24 hours to claim each game, with a new free game being revealed at 11pm ET.
While we don't know what the games will be specifically, there was a rumor going around that gave the list of the games that would be available each day. This rumor was debunked today as the first game in this rumor was supposed to be Dying Light, but we now know that this is false as we now know what this first game is.
Last year's lineup of games was pretty good, as it included lots of popular and well known games, such as Super Hot, Celeste, Hello Neighbor, and Totally Accurate Battle Simulator. It's hard to say what the games could be this year, as it could be anything, Epic Games has given away lots of different games over the past years, including big games like GTA V and Subnautica. Last year's free games were teased with a vague image as a hint to what the game will be, but this year isn't the same.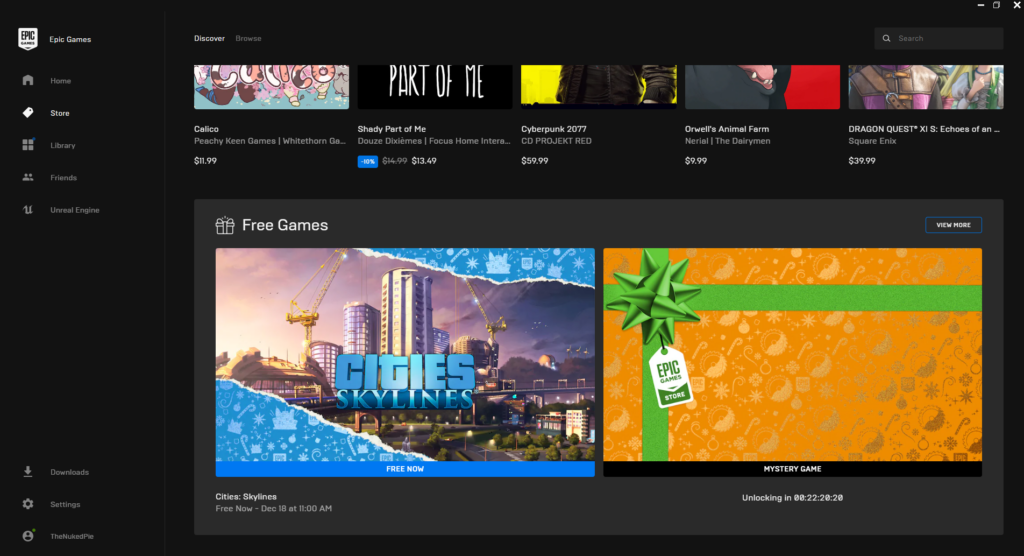 People who have the Epic Games Launcher should check the launcher every day to see what the new game of the day is. For people who don't have the Epic Games Launcher on their PC, I highly recommend downloading it or going to the Epic Game Store website and logging in so that you can get access to these free games. While we don't know what games we'll get exactly, players are sure to find at least one game to their liking.
Are you all excited for this sale to return? What games to you hope to see over the next two weeks? Let us know in the comments below. If you liked this article, then check some of our other pieces, like our one on Warzone and Black Ops Cold War, or our one on New Age of Empires 2 Lords of the West DLC.