As you might have gathered from our previous review regarding FIFA 21, we have some mixed feelings around the game and the franchise as a whole. On one hand, this game represents the sport we love and a chunk of our childhood. While on the other, it represents some of the more nefarious practices within the gaming industry. So as you can imagine, we are torn. We want to like this game and for that reason, we have decided to cover this one again as it moves into the next generation of gaming.
EA dropped their Xbox Series X and PS5 versions for FIFA 21 two days early, offering us ample opportunity to analyse the new additions to this title. Helping us answer whether these features rescue this title, or only add arbitrary changes. Will the next-gen be the light under FIFA's ass or instead act as a band-aid over a gunshot wound. We find out in our review of FIFA 21(Get FIFA 21 on PS4/PS5 at 50% off !! here).
The Beautiful Game
Let's begin with the visual splendour on offer here. Firstly, the step up from PS4 to PS5 is clear to see right from the off. When you start the introductory game between Liverpool and PSG, you are treated to an intro sequence through the mind of a mascot and throughout this segment, you'll likely sit there in awe. As someone who has been playing FIFA since way back in the early 2000s, you can't help but appreciate how far we have come.
You notice the improvements to lighting, textures and animations. Plus, small details have been added to offer even more authenticity. This is perhaps best shown through Alisson's hair flopping around as he moves, showing individual strands of hair moving independently. It may be a small detail but it got my attention just in time for the game to begin.
The gameplay itself would then treat us to more visual effects such as ball deformation when players thumped it at goal. Plus, the new game day camera is incredible for displaying the matchday in all its glory. Admittedly, it's not brilliant for playing competitively within our personal opinion but we concede this may be down purely to preference. In short, the game finally has its first tangible leap forward in visual quality for years and it's a breath of fresh air.
We have to admit, we did witness some frame rate issues throughout our time with this one. Not so much that it affected our enjoyment of the visuals and Match Day action. However, for all you purists out there, it is noticeable, so watch out for that.
Feel The Atmosphere
Now we move onto the Dualsense related changes. The games on the PS5 library at the moment are a mixed bag in this respect. Games such as Astro's playroom use every possible aspect of the Dualsense controller, as you would expect from a tech demo. Whereas other titles have added some minor uses that seem tacked on for the sake of it. So FIFA(Get FIFA 21 on PS4/PS5 at 50% off here) has joined the fray and has added some changes that are truly inspired. However, this also comes packaged with others that became tiresome fast.
Let's talk about what's good first. The aspect that gets the most out of the new hardware is the atmospheric and immersive changes that make you feel at one with the game. The controller will offer amazing haptic feedback throughout matches, responding with a shudder to well-received passes, reacting harshly to crunching challenges, offering a racing heartbeat when a players stamina is running on empty. Plus, when you score a goal, the controller erupts, offering a feeling in your hands akin to the trembling of a football stadium below your feet after a last-minute winner. It seems like such a conceptual idea that is hard to replicate and translate to a gaming scenario. However, to EA's credit, they absolutely nail atmosphere, with the Dualsense playing a key part.
Sadly though, not all aspects are brilliant in action. I personally feared that EA would try to use all aspects of the controller simply because they could, ruining the competitive nature and balance of the game. So true to form, EA would do exactly that, with the adaptive triggers playing their part. The idea behind the triggers is a good one. When players tire, the sprint option becomes more resistant and cumbersome to work with and when it works, it is rather novel.
However, the issue with this is that players tire at different speeds. So when you switch between them, the controller has to rapidly change resistance. This might not have been such a problem if the controller didn't make a piercing sound every time it changed but sadly, it does and this is a real immersion breaker.
Tiny, Small Steps Forward
FIFA 21 also manages to take a step forward in terms of optimisation. Thanks to the processing power of the hardware, jumping into a match is much more fluid. If you start a game, you no longer have to play the obligatory skill games while you wait. Instead, you are thrown straight into the action with no delay. Admittedly, I rather enjoyed the skill games as a warm-up of sorts but when push comes to shove, I can concede that this is the better option and it's much appreciated.
The title even makes use of the activities bar that is namely used for trophy hunters. So if you want to jump straight into a kick-off game with a pal, check your ultimate team or start up a new career mode, this feature allows you to do it seamlessly without all the menuing. Again, another small change you didn't know you needed but you can't help but be glad it now exists.
The Verdict
So we have decided to give this one the same score as last time. This might be confusing considering the clear move forward but here's the justification. Since release, FIFA 21(Get FIFA 21 on PS4/PS5 at 50% off !! here) has only gone down in our expectations with bugs, glitches and meme-worthy issues littering the internet to back up our view. So if we were reviewing the same game with the power of hindsight, perhaps we would be even more critical.
However, with these new additions and changes, it has restored the title to its original score. The haptic feedback, drastic visual improvements, atmospheric changes and faster load times all cultivate to achieve this. There are some rather lacklustre additions such as the adaptive triggers but overall, this version has restored my belief that we will one day eventually have a truly perfect FIFA instalment. We aren't there yet but there is always next year.
So that's our re-review of FIFA 21. Have you got your hands on the new and improved edition? What do you think of the changes? Do you think this is a promising sign for things to come within the series? Let us know in the comments section below. Plus, if you want more reviews then why not check out our review of Overcooked: All You Can Eat. Or alternatively, you might like our review of Planet Coaster.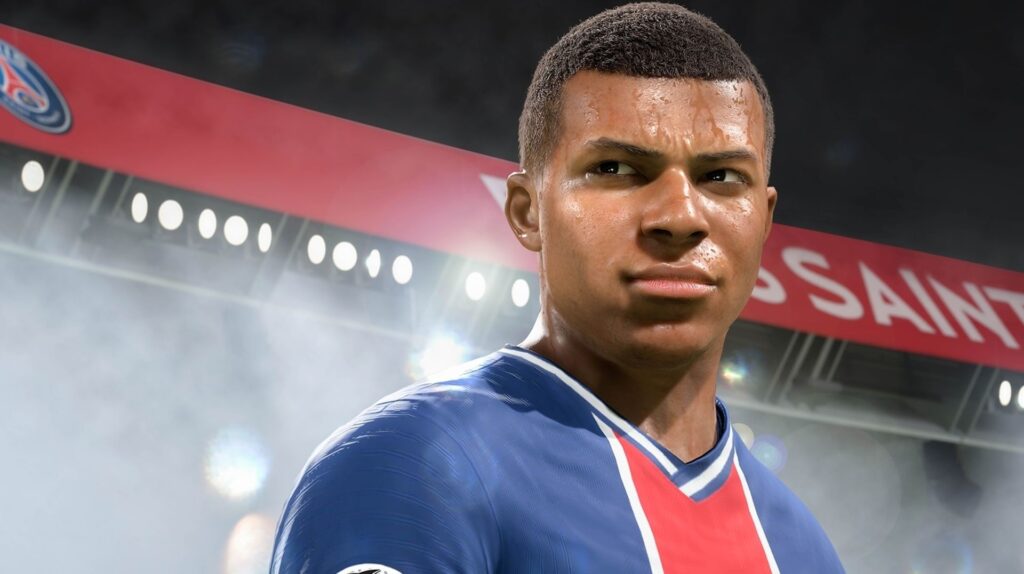 Summary: FIFA 21 is a football simulation video game published by Electronic Arts as part of the FIFA series. It is the 28th installment in the FIFA series
Genres: Sports
Platforms: Microsoft Windows, PlayStation 4, Xbox One, Nintendo Switch, Stadia, PlayStation 5(Review Version), Xbox Series X/S
Developers:EA Vancouver
EA Romania
Publishers: EA Sports (Electronic Arts)
Release date: Microsoft Windows, Nintendo Switch, PS4, Xbox One: 9 October 2020
PS5, Xbox Series X/S: 3 December 2020
Pros
The visual overhaul is really something to behold
Activities screen and quick loading are much appreciated
Cons
Adaptive triggers are poorly optimised
No real improvement to the core experience aside from minute details
Good job! Please give your positive feedback 😏
How could we improve this post? Please Help us. 💡