After a turbulent and chaotic last season that was heavily disrupted by the pandemic, the football season is in full swing once again and that can only mean one thing. FIFA is back with another annual release aiming to build on the success of previous years and deliver an experience that blurs the lines of virtual football and the beautiful game itself. Over the last few years, EA has come under fire for producing FIFA titles with minuscule changes to the overall gameplay, no tangible additions to any game mode aside from Ultimate Team. Plus, the gaming community has had a general dislike toward the cash-grabbing nature of the game's format for many years now. So with this in mind, it begs the question, is the age of the annual release still viable in gaming?
Rival footballing juggernaut PES certainly didn't think so, admitting that with the disruption caused by the global lockdown and the havoc this would wreak on the game's development, that it simply wasn't fair to their customer base to release a fully-fledged title at full retail price. They would opt for a season update at a cut price adding modest additions to the game and tweaking gameplay to iron out any issues from last seasons title. FIFA being the money making machine that it is, hasn't taken the same approach and claims that the development teams hard work more than justifies a full release. FIFA 21 makes a lot of promises and we are here to tell you how many EA actually deliver on. So here is our full review of FIFA 21.
Here We Go Again
As you boot up FIFA 21 and finally make your way to the main menu after a mandatory tester match, the usual traits of a modern FIFA title show themselves once again. The game tries to lure you to its marquee mode 'Ultimate Team' with all other modes seemingly taking a backseat. However, we will be leaving that right until the end as we feel we already know what to expect. What you may notice once FIFA 21 allows you to divert your eyes from Ultimate Team is that 'The Journey' mode is absent on this occasion. It seems that Alex Hunter's story has come to an end and with that, so has a lot of the single-player enjoyment for this title.
So in an attempt to find joy while offline in this game, we dropped into a career mode to see if we finally got the update that we have been asking for. Sadly though, it seems that all the changes to this mode are rather arbitrary. When we compare the intricate systems that Football Manager offers players that go right down to the finest detail, the FIFA career mode is basic at best. The new update brings schedule planning, player development and added transfer options such as a loan with an option to buy into play. Plus, the mode allows you to simulate and jump into matches whenever you please. However, most of these changes range from purely cosmetic to just plain boring and the latter is something that was actually present in career mode as far back as FIFA 06. If you don't believe us, head over to FootymanagerTV's channel where he compares FIFA 19 to FIFA 06, exposing the weaknesses of the mode in modern FIFA titles. So in short, this is far from the innovation that this mode desperately needed.
The only real area where there is some level of polish and improvement seems to be within the Pro Clubs mode. After an uproar from the fans when it was rumoured that the popular mode was to be scrapped, it seems that the development saw that as a reason to give the mode some new features. The most notable change is the ability to use the character creation kit to adapt the name and appearance of AI teammates, which although rather superficial, is a fun addition which you and your pals will undoubtedly abuse by making odd looking players.
Then on top of this, club managers will be able to alter tactics before a game, meaning that you'll be able to have more effect on the game through your AI partners rather than relying on just the ability of the human players on the team. These are changes that are very welcome to the mode and go a long towards making this mode one of the best things that the game has to offer.
The Beautiful Game
What is so appealing about football as a sport is the unpredictable nature of every single game. Take the title-winning season from Leicester City or that iconic Aguero goal in the final minutes of the 2011/12 premier league season as prime examples of this. So it seems all the more disappointing with each year that FIFA continues to be so predictable. Last year was a game that was dominated by pacey players, with defenders being about as effective as chocolate teapots. Then the year before the opposite was the case, with keepers being unstoppable demigod figures in between the sticks and defenders being able to match the pace of any rapid striker on the planet. There's something that doesn't quite add up when an ageing Giorgio Chiellini catches up to the rapid Neymar with little fuss.
However, in a shocking turn of events, EA seems to have found a middle ground between comically attacking and relentlessly defensive gameplay. This has been achieved through pace being a key factor of breaking through teams defences once again. However, to counteract this, the overall pace of the game is much slower, meaning that controlling the middle of the park is vital, possession is key and if you do find yourself caught on the counter, the game gives you ample time to plan your best strategy to deal with each situation.
In addition to this, AI seems to have gotten a facelift this year, with the computer-controlled opposition being able to position themselves much better, play much more naturally and make smarter movement and attacks. This isn't really noticeable unless you are playing on world class difficulty or legendary difficulty but it is still a very welcome change nonetheless that makes the gameplay feel much more authentic.
Presentation Lacks Composure
We have seen it all too many times before, our teams top scorer in on goal with minutes left on the clock, they look for all the world like they are going to add to their tally. Then with a swing on the leg and a scuff of the ball, the shot goes wide and you're left with your head in your hands. FIFA's release is rather similar to this analogy each year. You believe that this will finally be the year, the game will be so different from the last, there will be so many new modes and the game will look so much better than the last outing too. Well, this game looks exactly the game as the last with no real improvements. The players look about as detailed as last year, the stadiums, animations and weather effects are almost identical to FIFA 20 and the fact that we expected anything different really shows just how easy it is to be suckered into EA's cycle of hope.
The one ray of sunshine in terms of presentation is the sound quality on offer. The soundtrack features the usual array of wonderful indie songs and artists from across the globe which has become custom down the years. Aside from this though, there seems to be no innovation in terms of new aesthetic and audio changes for this title.
Without Bias
Much like the passing of time or our own mortality being an inevitable part of life, so apparently is Ultimate Team and for that reason, we have to give it its moment in the spotlight. It's easy to hold contempt for this game mode due to the nefarious nature of the pack opening system, the pay to win mentality of it's player base and the modes role in the current state of microtransactions within gaming and believe us, we do. So much so in fact that Cal would have to take over testing out the FUT component for this game because Ali doesn't want any association with it , even on review-basis. The channel's stance on FUT is simple. It's the root of all evil within gaming and we hate it as a game mode. However, we leave our opinions and prejudices at the door as we delve into FIFA 21's approach to Ultimate Team.
One new change that has taken away the frustrating and time-consuming need to manage your squad before games is the removal of the fitness attributes. Thanks to this, there is less need to rotate players in your squad, no obligation to have stacks of consumable items on standby just to play matches and ultimately, it means you'll be spending more time actually playing which is a welcome change.
The game also adds more icons to the game meaning that you'll have more classic players to fill your team with. You'll have all the old regulars like Guillet, Best, Henry, Ronaldinho and the rest but in addition, you'll have more recently retired players making a return such as Bayern legend Phillip Lahm, Samuel Eto'o and Xavi to name a few.
The mode will also have other slight changes such as the ability to play in Co-op mode, bringing a taste of the pro clubs mode to Ultimate team. Plus you will be able to enhance and customise your own stadiums within the mode with custom visual and sound effects, banners to celebrate your in-game accolades and many other cosmetic features.
All these features undoubtedly add something new to a game mode that has always been the main area of focus for innovative modes and features within the FIFA franchise. However, even with these additions, this feels like a much lighter load of changes when compared to past year's where squad challenges, draft mode and other iconic features were introduced. It perhaps showcases just how rushed the development of this title was. PES may not have set the world alight with its season update approach but at least it was upfront about its shortcomings.
The Verdict
As much as we all collectively love to moan and groan about FIFA with each passing year, the fact is that for most of us, the gripes we have with the title won't stop us from forking out for the new instalment each year. It is undoubtedly still the best footballing game on the market as it has been for many years now and with no direct competition this year, that trend is set to continue. Plus, despite the constant neglect of the more single-player oriented aspects of the game, the ones that are provided are still fun.
Gameplay has been refined to give a more balanced matchday experience than ever before, Ultimate Team and Pro Clubs, the two big draws of the series, get great new features and visuals while not really upping the ante from last year too much, still look outstanding. If you ask us if the new features and changes are worth the price of admission we would wholeheartedly say no. In our opinion, this could easily have been a season update much like PES. However, we can't go in too hard on FIFA 21 aside from that. It's still great fun, is undoubtedly one of the best multiplayer games on the market and if you just want more FIFA and aren't too worried about whether you're being short-changed, then this will be just fine. However, if you're looking for a return to form for the series, well, there is always next year.
So that's our review of FIFA 21. What are your thoughts on the new instalment in the popular sports series? Do you think that the game would have benefited from the same approach as PES? Do you think there are enough new features to warrant a full release? Will you be getting this one on launch day? Let us know in the comments.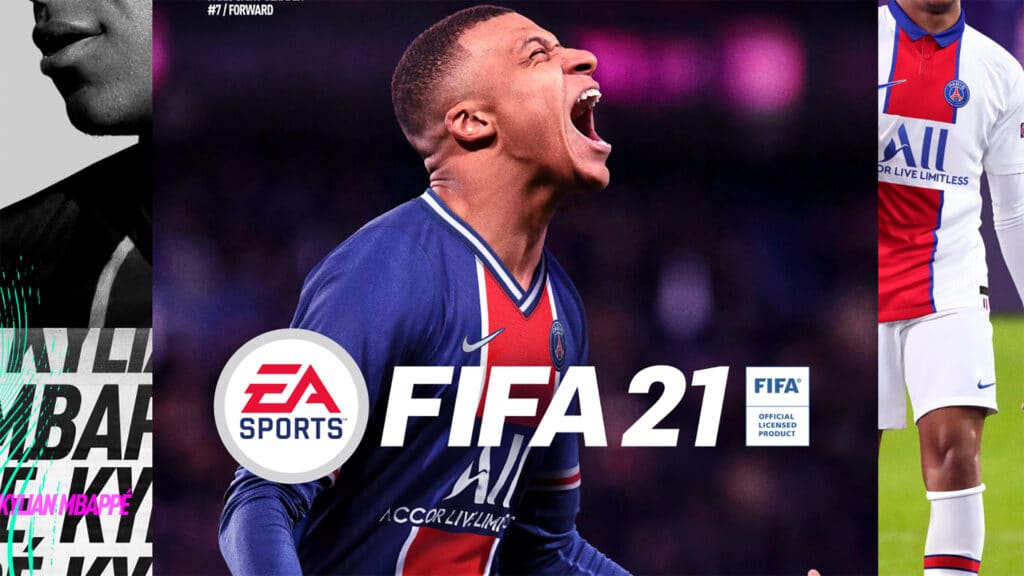 Summary: Football is back with EA SPORTS™ FIFA 21, featuring more ways to team up on the street or in the stadium to enjoy even bigger victories with friends.
Genres: Sports
Platforms: PlayStation 4, Nintendo Switch, PlayStation 5, Xbox One, Xbox Series X and Series S, Microsoft Windows (Review Version)
Developers: Electronic Arts
Publishers: Electronic Arts
Release date: 9 Oct, 2020
FIFA 21
Pros
Great audio and match atmosphere
Improved gameplay
Fun multiplayer
Cons
Arbitrary changes to Career Mode
Ultimate team abhorrent cash-grab & Pay to win practices
"Same" of the same, not more
Good job! Please give your positive feedback 😏
How could we improve this post? Please Help us. 💡