Risk of Rain 2 officially launched its 1.0 update in August of 2020, after a year of early access, to resounding success. Hopoo Games' bi-monthly content updates were always thrilling as an avid player throughout early access. Communication is key, and Hopoo Games did that perfectly with their Risk of Rain 2 roadmap throughout their beta period. The "early access forecast" image was possibly my favorite on the internet at the time.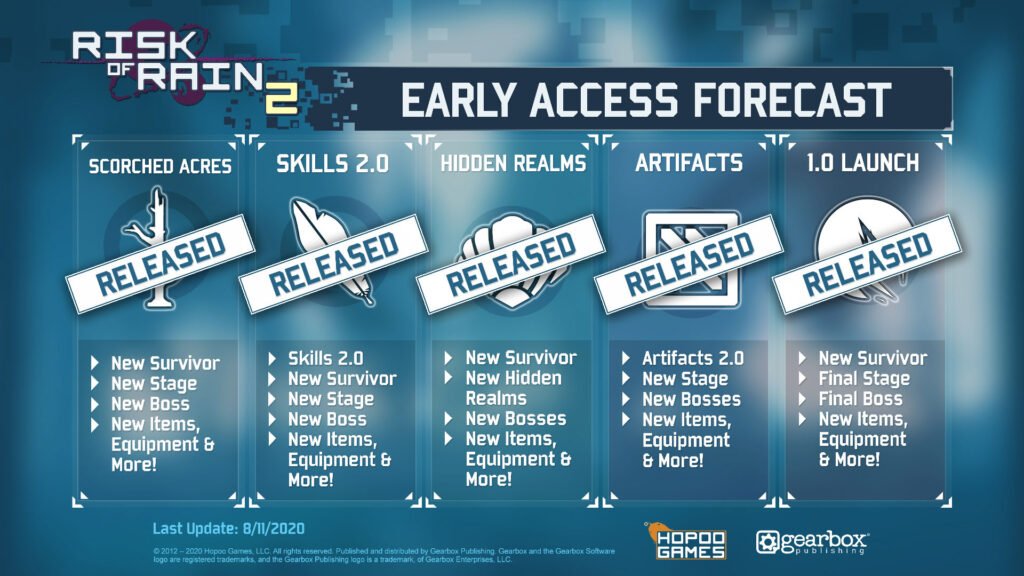 Monsoon Season for Risk of Rain 2
They went a bit quiet after their recent update adding a new stage and doing some item balancing. Deservedly so with the amount of care and time put into the development cycle of Risk of Rain 2. In mid December, the team at Hopoo Games announced that they were doubling in size, bringing on programmers and animators! Along with the manpower upgrade, they also released a new infographic in the same vein as the early access roadmap that I grew to know and love.
This roadmap for Risk of Rain 2 in 2021 is some of the best news I received all year. Hopoo Games is kicking off the year with a bang with a free anniversary update. This update promises a whole heap of content, starting with a new survivor. Hopoo games are including some cut content in this update. The announcement mentions a Grandparent boss (presumably a boss variant of the Parent monsters in Stage 5). Two of the features that I like most are the completion of the logbook entries and a run history/profile statistics option. Each and every monster, boss, survivor, item, and biome in Risk of Rain 2 has its own logbook entry which expands on the lore of the game. A way to review past runs and see which items worked and how many runs you've completely botched is a great feature. All of these updates are set to be released in March 2021 for the game's early access anniversary! You can find the announcement itself here, on Risk of Rain 2's Steam page.
You're Gonna Need a Bigger Ukulele
That brings us to the expansion planned for late this year, and it sure is a big one. The first paid expansion pack will have just over 2 content updates of goodies, according to the announcement. It brings with it the same things one would expect from an update, with a few extras as well. Of course, they are including survivors, stages, bosses, enemies, and items. In addition, the expansion plans to introduce random events, new interactables, new elite monster types, and a new game mode. Finally, included in the expansion will be a few final stage and boss to go along with it and new music (and this soundtrack is phenomenal).
If you want to learn more about Risk of Rain 2 or Hopoo games, follow the game's Twitter or check out the Steam Page! You can buy Risk of Rain 2 at:
Are you as excited for Risk of Rain 2's update as I am? Let us know! If you enjoyed this article, check out some of our others like Ninja Theory's New Project Pushes Video Game Realism To New Heights or Studio 'Next Level Games' Hiring Ahead of New Projects!