Bethesda recently announced on Twitter that Machine Games, the studio responsible for Wolfenstein, is developing an Indiana Jones game. In addition, Todd Howard will work in collaboration as executive producer on the Indiana Jones title.
Excitingly, the Indiana Jones game will feature an original story splintering away from the 4 movies. However, we expect that the game will feature many Easter eggs and references to the original Indiana Jones movies.
Bethesda stated on Twitter that "It'll be some time before we have more to reveal, but we're very excited to share today's news." It will be very interesting to see Machine Games take on the Indiana Jones franchise. Especially as Machine Games are primarily an FPS studio.
Perhaps we will get to see the story unfold through Indiana's own eyes in a first-person perspective. But that's just speculation right now we have no information on the Indiana Jones game. Apart from a short teaser cinematic that features the iconic Indiana Jones score composed by John Williams. As well as interesting items on a desk and of course Indiana's iconic whip.
Indiana Jones Teaser Trailer Reveals Information on the upcoming Title
Although short, there is actually quite a lot to unpack here and examine. As the cinematic starts, we hear the scratching of vinyl on a record player. While the camera slowly pans over presumably Indiana's desk.
While many of the items have company logos subtly stuck on them such as a notebook with Bethesda written on it and a typewriter with Machine Games written on it.
Excluding these little references, we actually get quite a bit of information on the Indiana Jones game. For example, we know that the game takes place -at least partially- in Rome. Due to a plane ticket sitting just to the right of the typewriter, that has "Overnight Service to Rome" on it as well as the date "Oct 21. 1937."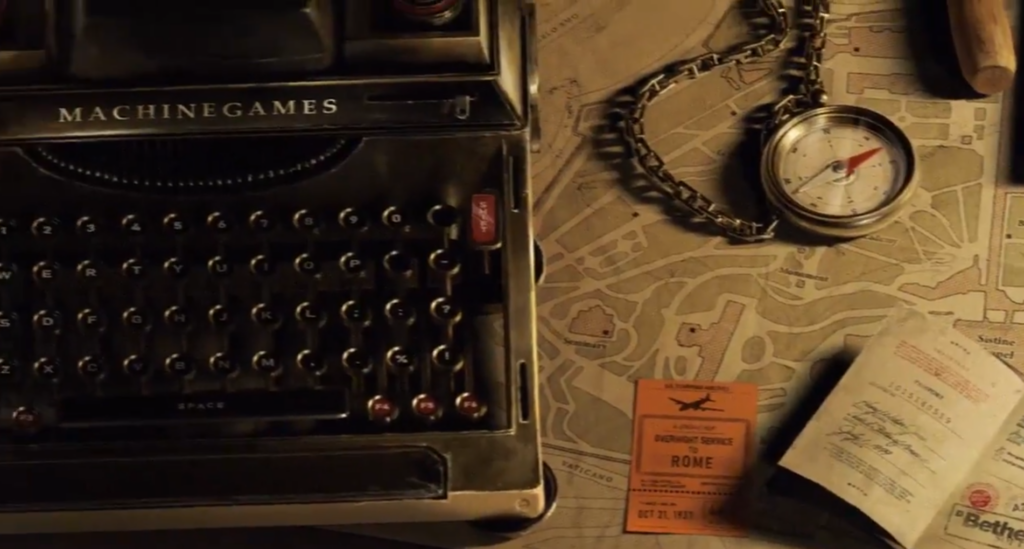 Therefore we can speculate that the game takes place in Rome sometime in 1937. However, we get to see a scribbled diagram of a pyramid with the name Ziggurat next to it. The Ziggurat is a type of pyramid that was built in ancient Mesopotamia which is a historical region of the Middle East/Western Asia. Therefore we can speculate that we will be traveling to some pretty interesting places on the globe.
We get a view of a collection of some interestingly- named books at the very start of the trailer. Such as Ancient Circle, Myths That Made Us, and Forbidden Stones. Perhaps the Myths That Made Us points to some supernatural elements within the game.
If you found this article useful why not check out our other work such as The Last of Us Sound Designer Joins God of War: Ragnarok Dev Team. Or Viewsonic Announces Stunning new 144HZ and 240HZ QHD Gaming Monitors.