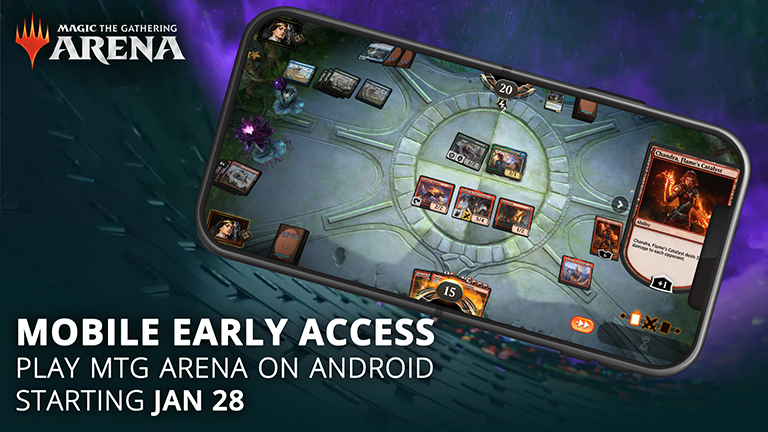 Magic: The Gathering Arena is a free-to-play strategy card game that until fairly recently was only available on PC and MAC devices. As well of course physically.
As early as January 28th, Android users will be able to play their favorite strategy card game on the go. iOS users will, unfortunately, have to wait a bit longer for Magic: The Gathering Arena. No date for the release of iOS has been disclosed as of yet.
Magic: The Gathering Arena will include cross-platform play. Like many of the online TCG's such as Hearthstone and Legends of Runeterra.
Magic: The Gathering Developers Wizards of the Coast stated that players will be able to access all MTG: Arena cards as well as cards from the upcoming Kaldheim expansion.(Pre-Order Magic The Gathering Kaldheim Bundle here)
Can Your Phone Run Magic: The Gathering Arena?
Wizards of the Coast have not released a full list of supported devices, but have released a sample list of devices that can run Magic: The Gathering Arena. This can be found here on the official Magic: The Gathering website.
The developers additionally highlighted the specs of the game. If you are unsure whether your phone will be able to squeeze enough power to run the game. Your phone is recommended to have:
Android Version: 6.0 (Marshmallow)
RAM: 4GB
Graphics API: OpenGL ES 3.0
Texture Compression: ETC2
While your phone is required to have any of these selected chipsets:
Kirin 970
Snapdragon 845
Exynos 9810
Strategy Card Games on Mobile
It will be interesting to see how the android port of Magic: The Gathering Arena plays out. Despite the portability of the game being one of the biggest attractions to adding it to your library. Magic: The Gathering is a renowned strategy card game that has been around for a very long time. Eclipsing other TCG's in a number of cards and deck comps.
Magic: The Gathering Arena is a great introduction to the TCG & it includes a good tutorial system that helps new players get started in a non overwhelming way. It's almost inevitable that TCG is moving to the mobile gaming platform in order to hit a wider demographic of gamers.(Get Magic: The Gathering 2021 Core Set here)
Some Facts to Consider, Playing MTG: Arena on Mobile
Mobile phone screens are inherently small making it often hard to read the text of cards in other TCGs. Playing on the phone may put you at a disadvantage as your small screen may become cluttered making it hard to see everything that is going on. Additionally, it can be annoying when your connection drops while being locked into a game.
Therefore it will be interesting to see how Wizards of the Coast tackle these issues. It should be noted that MTG: Arena will release in Early Access so there may be technical issues. However, these will probably smooth out as time progresses.(Pre-Order Magic The Gathering Kaldheim Bundle here)
If you found this article useful why not check out our other work such as BBC to Broadcast Rocket League Championship X Matches. Or Lenovo to Bring out Switch Style Laptop.