If a few weeks ago you told me Monster Energy owned a real-life Supercross Championship and video game series, I would've spat out my Mountain Dew at you. But here we are.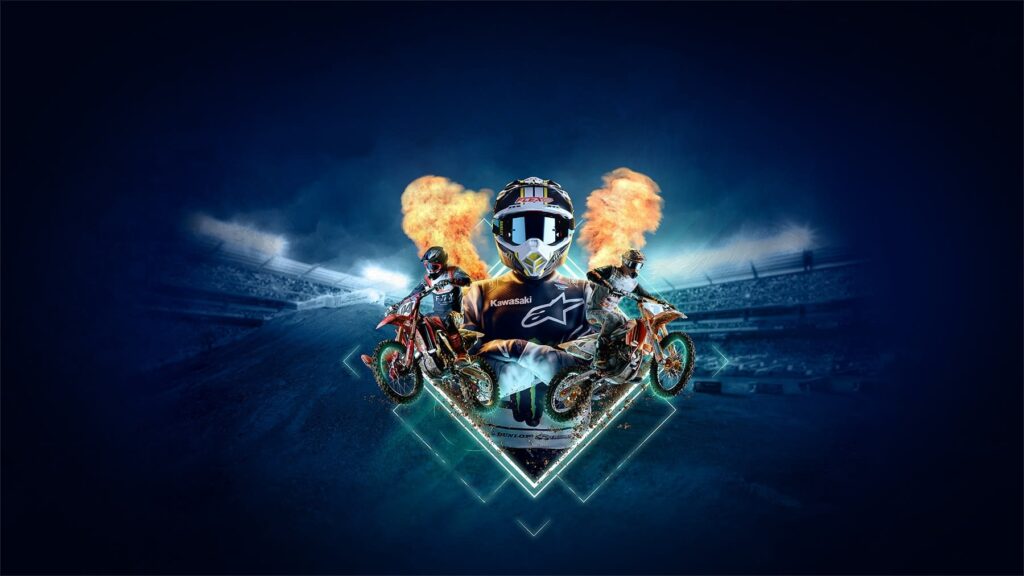 It's For Research Purposes
Before playing this my closest experience with a motorbike game was Motorstorm! Not to worry dear reader. I have thoroughly researched the subject of motorcycle games and am now adapt to giving one a proper review. And of course, I played the game.
Based on my findings I have found the differences between this latest entry and the other three Supercross games is just yearly incremental updates. So you don't need to scrounge up the cash to buy the others, since you only need the latest and greatest.
As the name suggests Supercross contains mostly indoor tracks. They refer to stadiums with an open roof as outdoor, which is technically true but disappointing nevertheless. A shame really as outdoor tracks surrounded by nature would have been more creative, as they offer more space and beauty.
In terms of the tracks, here they all faithfully created from real ones, according to Motocross enthusiasts. Be that as it may, some just look too similar to one another. Combined with the different shades of brown that monopolize all of them, there wasn't any that really stood out.
What Makes A Man or Woman?
Before you can race a custom character needs to be created. In typical sports game fashion, there's not an abundance of choice. There are enough options to make players stand out but not enough to make a lookalike of yourself. Not to mention the character models look like they were made on the PS3. I had to settle for a Jacksepticeye knockoff!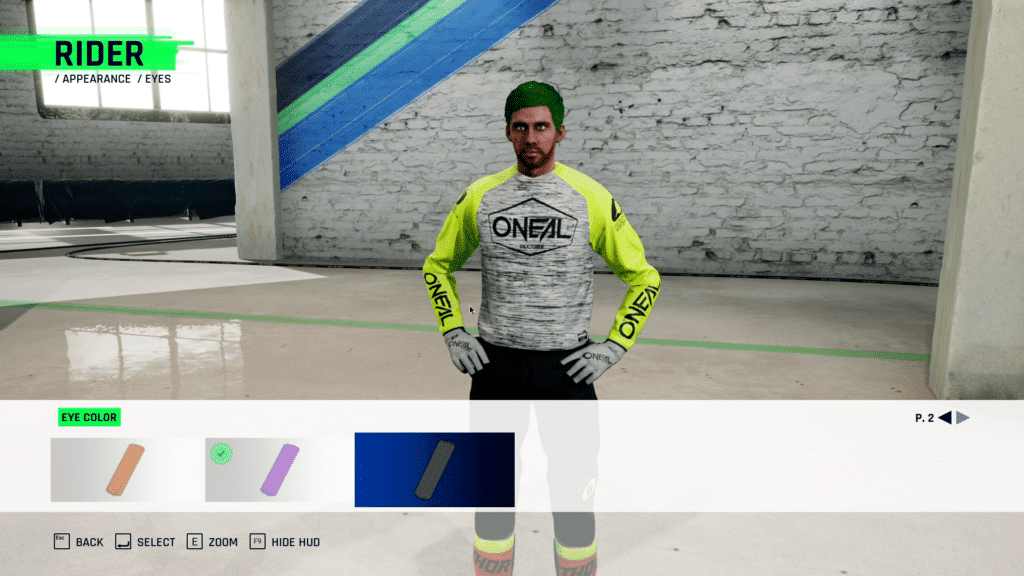 Next, you choose from 6 different company bikes. I picked the fastest one obviously. After that, there is a tutorial where I was taught the basics but left to figure out the core mechanics myself. Here I was quickly refreshed on how inept I am at driving simulators. Actually, it's an arcade racer according to die-hard bikers online. Well, it doesn't feel very arcadey to me.
Great Job Old Sport!
You're stuck with your custom character and bike in career mode. Or there's event mode if you want to race as one of the real-life pros. Neither mode has a plot. You just take part in a series of races. Even if you come in last every time as I did, new events will happen. All the sponsors I was offered reward you for coming in 17th out of 22 racers. Essentially impossible for me even with the AI racers set to 'very easy'.
You can probably tell by now Monster Energy Supercross isn't very accommodating to newcomers. I still recommend you stick with it for at least a few hours. That's because I could feel myself improving even though my end race position never changed. And I still had fun.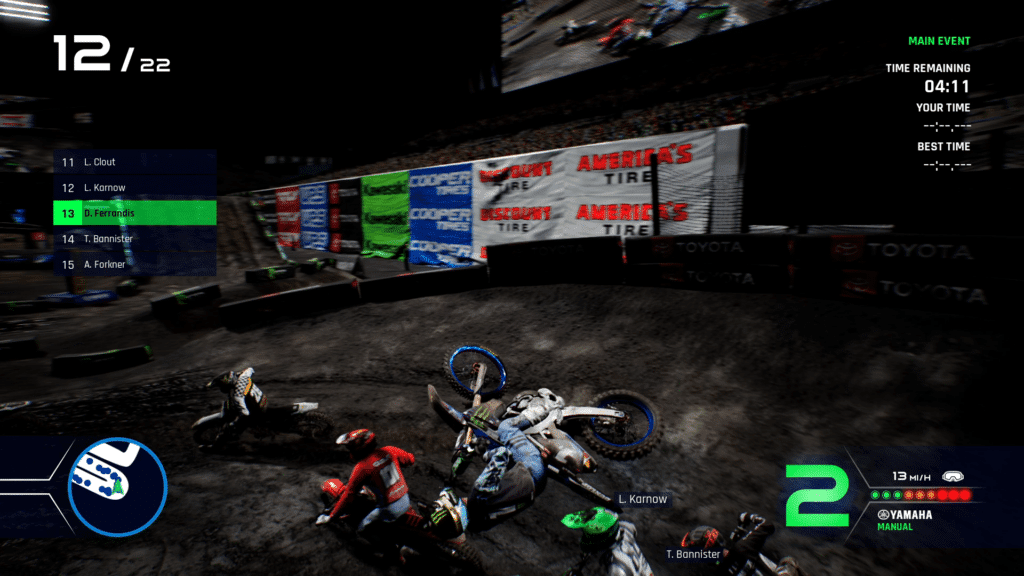 Tips And Tricks
Over time I discovered it's not about going as fast as you can around the course like in most racing titles. If you try that you'll often crash and fly out of bounds. Instead, you need to: read the track, adjust your momentum appropriately, time the right jumps on the ramps, adjust your altitude while airborne, land your bike parallel to the angle of the road and break around corners. Master these skills and your performance will improve dramatically. Play long enough and there's plenty of advanced techniques you can try if you want to challenge the pros.
Monster Energy Supercross provides a plethora of options for you to adjust. I suggest leaving everything on automatic until you are comfortable racing around the tracks. Supercross encourages you to use 'rewind', which undoes any mistakes made up to 3 times per race. However, it slowed the game down to a crawl and I still came in last! So I ditched it. There's also 'flow' which shows blue lines that guide your jumps. Again not very helpful but at least it's an option.
As soon as you're comfortable, try switching everything to manual and test it out. If you can master manual driving you'll finish sooner than if you were playing on auto. This is because you have more control over your bike. You can go faster on straight roads and slower around corners for example.
Sharing Is Caring
Monster Energy Supercross has a very easy to use course creator. It gives you to tools you need to create courses that look just as official as the real ones. Even a newbie like me could create something half-decent, never mind some of the whiz kids that'll be utilizing the tools given to the fullest.
Unfortunately, as I played this before release I couldn't test other players courses or multiplayer against other humans. However, I imagine these features will add a lot of replayability to this title.
Listen To That Engine Purr
The motorcycles make the right noises when driving them, as you'd expect. Meanwhile, the soundtrack in the menus is a mixture of country and rave (an odd combo). However, during races, rock music is used, which is a much better fit in my opinion.
I skip the cutscene showing the track with commentary from the 2 announcers at the start of every race. In conclusion, they're about as interesting as wet paint! They aren't funny or provide any useful information. Since it's a sports game there's an unspoken rule about announcers having to be forgettable. Can't rattle those sports fans with engaging hosts!
The Verdict
If you're a motorcycle enthusiast, you'll get what you came for. If you're new or a casual player of the genre, you will struggle with the high difficulty.
However, this is an authentic motorcycle simulator that can feel rewarding the better you get at it. Monster Energy Supercross provides in-depth skill-based game mechanics that require the player to both plans out and think on the spot, in order to maximize their performance.
There's plenty of customization you can make with designing tracks and changing the gear your character uses.
Not to mention the game is well optimized. A mid-range PC can on high settings without any noticeable frame drops.
You can pre-order the game with a 54% discount here.
Summary: Cross is Super Again! The official videogame of the Monster Energy AMA Supercross Championship is back with its fourth edition, the most extreme ever!
Genres: Racing, Simulation, Sports
Platforms: Microsoft Windows (Review Version)
Developers: Milestone S.r.l.
Publishers: Milestone S.r.l.
Initial Release Date: 11th March, 2021
Does this game stand out enough from others in the series? Is this the best Motocross game? How can new players be accommodated better in future titles? Let us know in the comments.
Pros
Faithfully recreated race tracks
Skill based game mechanics
Authentic motorcycle simulator
Easy to use track creator
Well optimized on PC
Cons
Tracks look too similar
Racing isn't beginner friendly
Good job! Please give your positive feedback 😏
How could we improve this post? Please Help us. 💡