Go, go, go! Nintendo have certainly delivered with this latest Animal Crossing: New Horizons update, there's so much coming up! In the latest Nintendo Direct, they announced that the update would be available on 25th February, and the time is finally here. Go grab your Switch, and get downloading, you don't want to miss out on this update. What's so special, I hear you ask? Allow me to show you!
Super Mario
Simply by downloading the update, you'll receive a snazzy new wallpaper. It features a design with blocks and warp pipes based on the classic 2D Mushroom Kingdom. This is immediately available from the moment you get the update, so you can put this on your walls right now!
From March 1st, other Super Mario items will be available through Nook shopping. These include decorative items such as blocks, coins, and even enemies like the Spike Block. You can also get outfits based on your favourite Super Mario characters. Previews have confirmed that Wario, Luigi, Mario, and Princess Peach will be available, but maybe there'll be others too? I know I personally would love a Toad hat, but that's probably too much to hope for.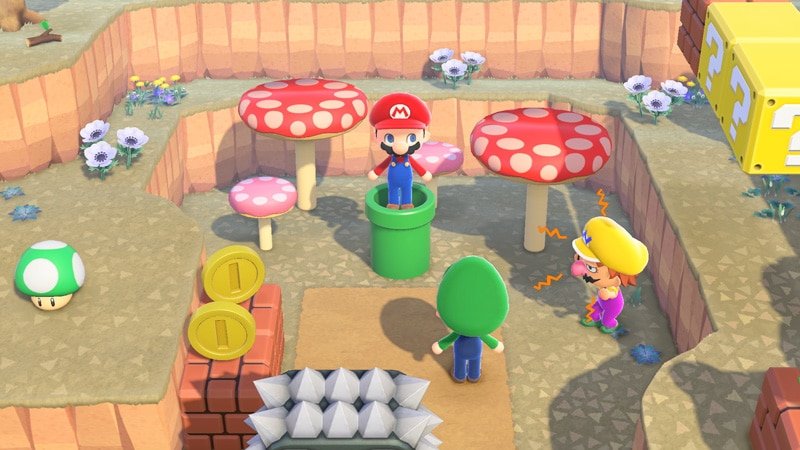 However, the coolest new item that's coming as part of the update is the warp pipe! You can set warp pipes up around your island, and then use them to teleport, just like in Super Mario! Not only is this a super fun feature as it references Mario, but it'll be super useful for moving around the island. You can set pipes up in convenient places, and use them as a quick travel method. This feature is completely unlike anything we've had so far, and should be really exciting.
Check out the full trailer for the Super Mario items:
Hinamatsuri Festival (Girls' Day)
Hinamatsuri is a special holiday in Japanese culture, and it's now featured in Animal Crossing. It's celebrated on March 3rd, and new items will be available for it every day in the build up! Starting from now, you can get beautiful themed items such as dolls and blossom lanterns.
In Japan, the festival itself is celebrated by covering platforms with red fabric, and placing ornamental dolls upon them. These represent the Emperor, Empress, attendants, and musicians from the Heian period. The dolls are in traditional court dress, and are very detailed, often costing quite a large sum. It's traditional for the girls of the family to be involved with this celebration, hence why it's known as Girls' Day.
It's wonderful to see Animal Crossing sharing the Japanese culture with players around the world. Hinamatsuri a very special festival in Japan, and now international gamers will get to experience the excitement of it.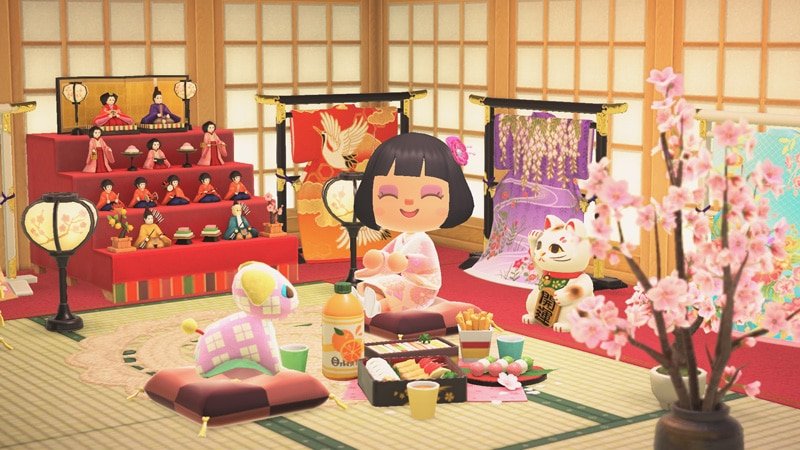 Pi Day
Unlike Hinamatsuri, Pi Day is not a special cultural festival. Instead, it's born out of a mathematical concept. The number pi (used in finding the area of a circle) starts with 3.14. Using the American short date system, that stands for March 14th, and so it became known as Pi Day. Animal Crossings: New Horizons will have an in-game pie item that's available to order between March 1st and March 14th.
Shamrock Day
Just as with Easter and Christmas, Nintendo have created an alternative name for this celebration. Based on St. Patrick's Day, Shamrock Day is very green! A shamrock is a 3 leaved clover, and there will be items available in Animal Crossing depicting the cute little plant. There are several Shamrock Day items that can be ordered, including a rug, doorplate, and even fashion items! It's celebrated on March 17th, and items will be available from March 10th. Don't forget to check Able Sisters shop daily for new Shamrock Day outfits!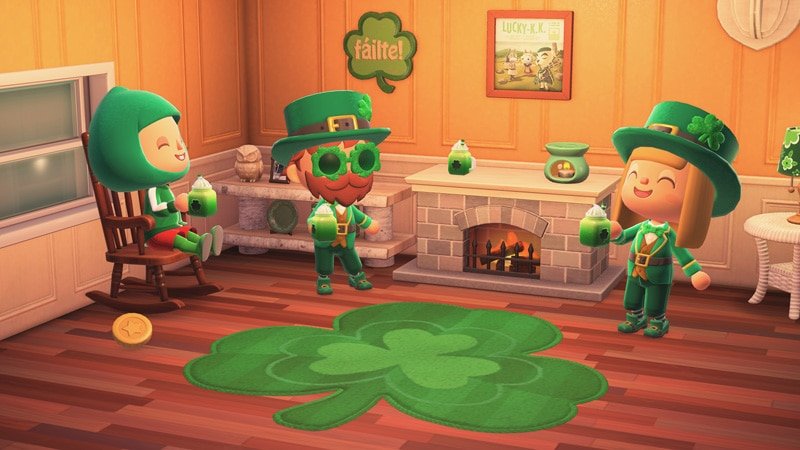 Download The Update Now!
All in all, this update is bringing some incredible things, and it all starts right now! Download it now to get your Super Mario wallpaper, and start celebrating Hinamatsuri today!
You can get Animal Crossing: New Horizons at 33% OFF here or through Amazon. You can also get the Nintendo Switch Animal Crossing Edition here (affiliate links).