A supposed new internal leak from Nintendo, published in a series of tweets by known Nintendo leak source Eclipse, shows the extreme measures the company took when dealing with 3DS homebrew hacker Neimod.
Neimod reportedly cracked the 3DS console in 2013; as the Nintendo leak suggests, the company responded with a complex game plan involving surveillance of Neimod's work and home life, and creating a team that received detailed instructions on how to approach him in the form of both a brief and a flowchart.
According to this plan, a "local investigator" (also explicitly referred to as law enforcement) was first to monitor Neimod's movements. When it was confirmed that Neimod was home from work, he should be approached by two further team members, consisting of an engineer and an NOA counsel.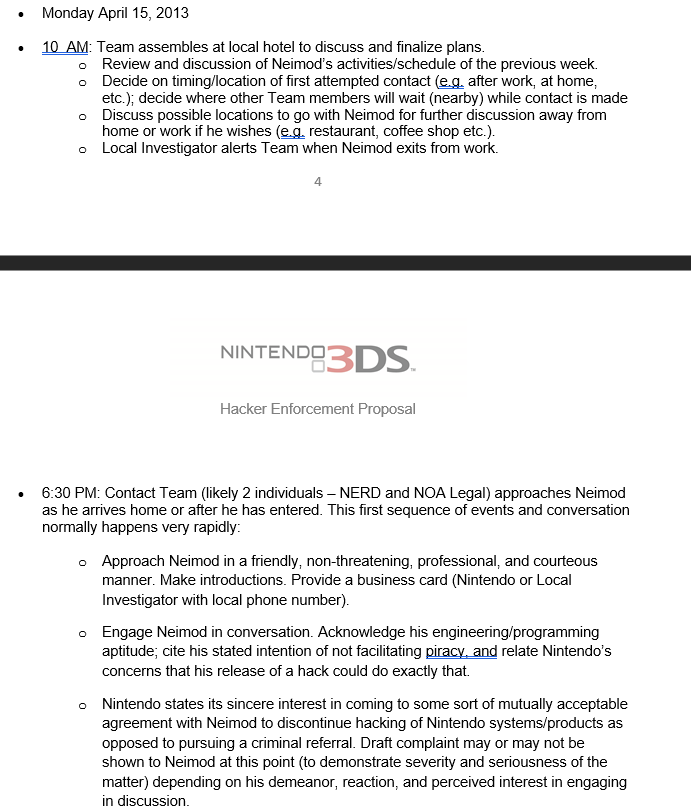 The documents of the Nintendo leak emphasize that this initial contact should remain nonconfrontational, acknowledging Neimod's skills and enterprise, as well as his stated desire not to facilitate pirating through his hacking work, but also to express Nintendo's concern that Neimod's actions would nonetheless lead to piracy and their request that he desist from his hacking activities.
If Neimod proved amenable to the request, a settlement would be proposed. If, on the other hand, Neimod did not cooperate, the team was instructed to withdraw, with the implication being that Nintendo would then pursue legal action against the hacker.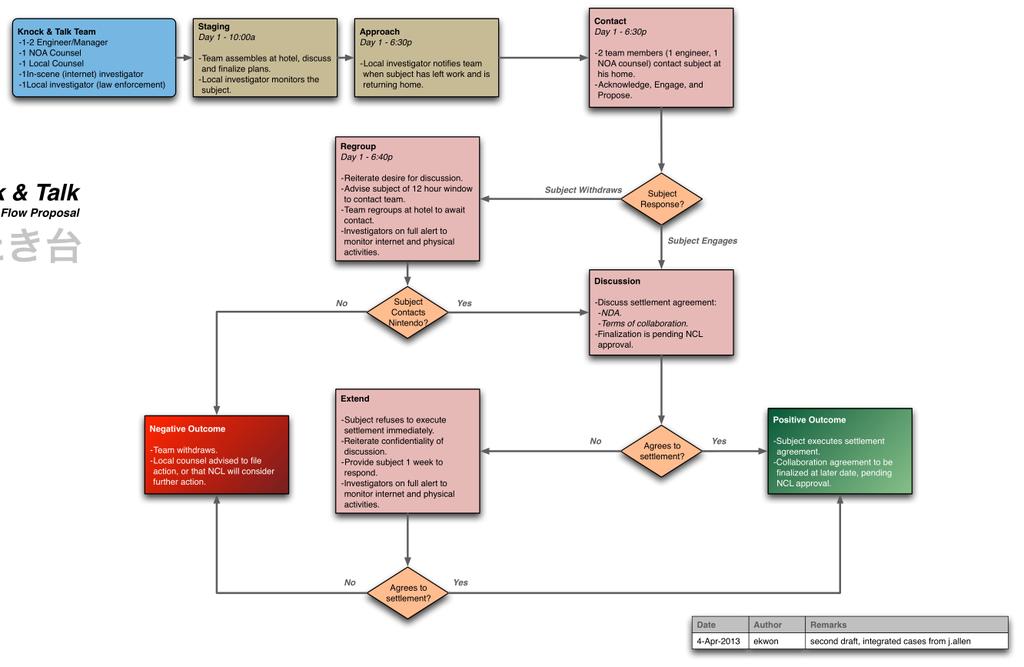 Despite its reputation for being a kid-friendly company, Nintendo has a well-known hardline attitude towards piracy. They also have a long history of clamping down on people reported to be hacking their consoles and games, such as an instance earlier this year when they were reported to be disabling individual Animal Crossing: New Horizons cartridges suspected to belong to hackers. (Get a working Animal Crossing: New Horizons copy at 33% OFF here! or through Amazon.)They even went so far as ordering a cease-and-desist against the selling of a set of 3rd-party Switch joy-cons whose proceeds were to go to charity, a story we covered right here on VeryAli.
As reported by Eclipse, the Nintendo leak also includes supposed early design documents for the Switch, as well as a report that the company rewarded another group of hackers for their cooperation by giving them prototype hardware.
Did you enjoy this article? Then why not check out some of our other pieces, such as Walking Simulators Even Christopher Walken Couldn't Resist, or Cyberpunk 2077 Sells 13 Million Copies Despite Haters.