If you were following our news stories from yesterday, you may have seen this article right here, stating that Overwatch 2's release date is likely to be announced at Blizzcon. Now, if you're a fan of Overwatch, it could be for a number of reasons. It might be the tight mechanics, the balanced gameplay or the cavalcade of heroes you can switch between on the fly. However, as the Overwatch community know all too well, many of the players like to enjoy the characters of this game in a more adult setting such as Overwatch porn.(Get Overwatch for only $15! here)
That's right, Overwatch porn is not only a real thing, it's a category that sees a lot of action over the course of year. With some of the more avid Overwatch fans within the community enjoying some alone time with Mercy, Mei, Tracer and all the other gals on the roster. There will be no judgment from our end, we are just here to state the facts.
Rule 34 In Full Effect
So, with the rumours of the new title circulating, it seems that more and more Overwatch fans have jumped on the dirty bandwagon, leading to a spike in searches for these videos. Here is a graph showcasing to upward trend in search results.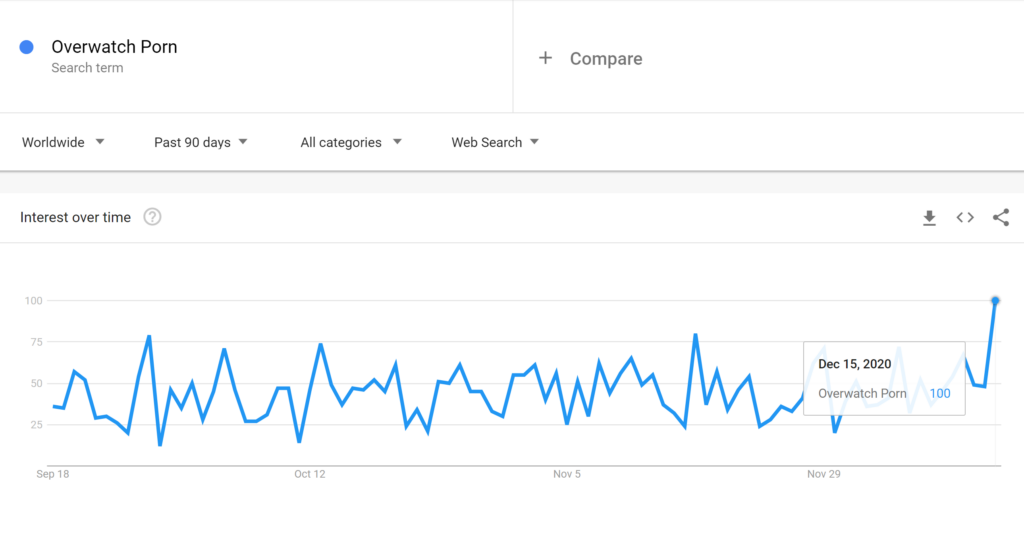 As you can see, this is a topic that always has a strong number of searches. However, it seems that we are experiencing an all time high. Here we can see a graph which showcases the rise in searches as more and more Overwatch fans look to get their jollies off. Again, no judgement, just the facts.
When Can We Expect Overwatch 2?
We eagerly await the details that will arrive at Blizzcon in February. However, what we do know through Jeff Kaplan's recent Youtube developer update, is that this game is still a long way off. Kaplan had this to say:
"As you know our big focus is Overwatch 2, which we will be talking more in February with BlizzCon Online coming up."
"Can't wait to talk to you more about Overwatch 2. Can't wait to show you more with Overwatch 2. We know it's been too long, we know we've been quiet."
In this game update, he went on to state that the game is still very much a work in progress and issued a warning to fans, stating that they 'shouldnt expect a 2021 release date.' We suppose it's best to manage fan expectation accordingly, especially with the recent events surrounding Cyberpunk 2077. Though, we expect fans to be a little upset with the length of time they'll need to wait for the next instalment.(Get Overwatch for only $20! here)
So that's our rather bizarre news regarding the spike in Overwatch porn online searches. What do you make of the news? Are you excited for the new Overwatch title? Do you think that a new Overwatch game is really needed? Have you contributed to the Google trend? Let us know in the comments section below.