Planet Coaster Console Edition (Get it here)is a game every roller coaster and theme park fanatic should have. This is due to players controlling how a theme park is run & dealing with realistic problems that real life theme parks may face.
These are things like maintaining customers and staff satisfaction levels. As well as dealing with funds and occasional ride break downs. You can also hire staff to deal with problems you may face like mechanics for ride break downs. As well as this you can also train and improve your staff or even give them a pay rise.
You can see these problems and how well your park is doing in the game's clever park management feature.
Although this is a great feature but it only tells you where the problem is. So if one of your shops wasn't doing well it will tell you about it but you will have to go find it yourself to make changes instead of it taking you right to it. This can be quite a challenge if you have a large park full of buildings and shops.(If you want the Steam PC version of Planet Coaster then you can get it at 60% off here)
You can fast forward or stop time if things get too hectic. The game also has an impressive day and night cycle that has an effect on your park. Planet Coaster also has three very fun and entertaining game-modes. The first game mode is Career:
Carrer Mode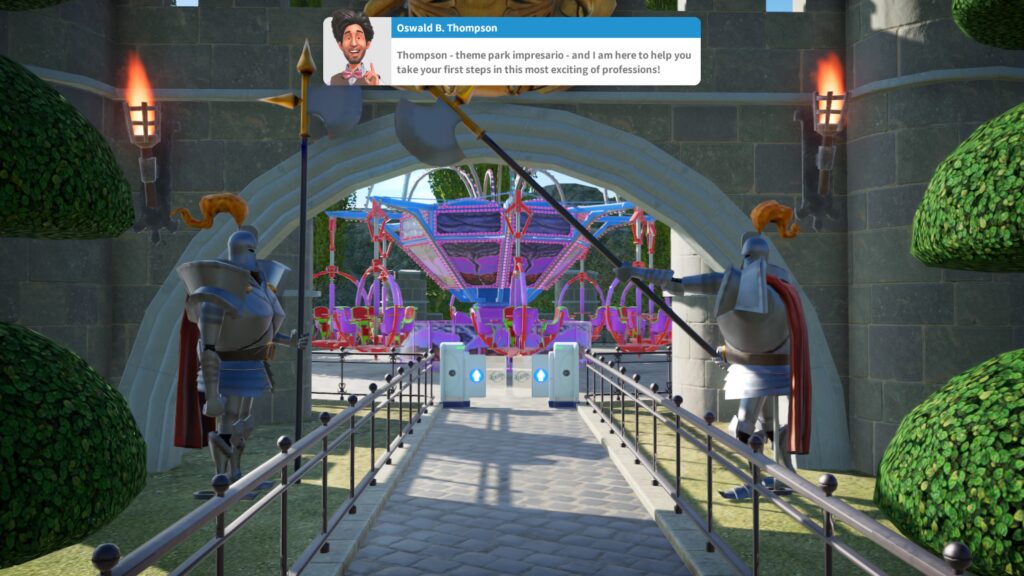 In this game-mode players must take control of an already-built park and try to complete challenges. Players will have objectives that range from easy to hard, giving the player Bronze, Silver or Gold for completing it. I do like this system as it adds re-playability.
In the Career mode, there are eight missions that have a set amount of scenarios for you to complete. This gets more challenging as you progress in the story.
It also has a rather infuriating as well as kind of long and boring tutorial. But This is also where we meet the interesting cast of characters in the game. You can skip these dialogues but I suggest you don't as you need to learn these mechanics and it is quite humorous with the things they say.
You can replay these dialogues though if you get stuck. There is also a help option in the pause menu if you do forget anything after you pass the tutorial.
Challenge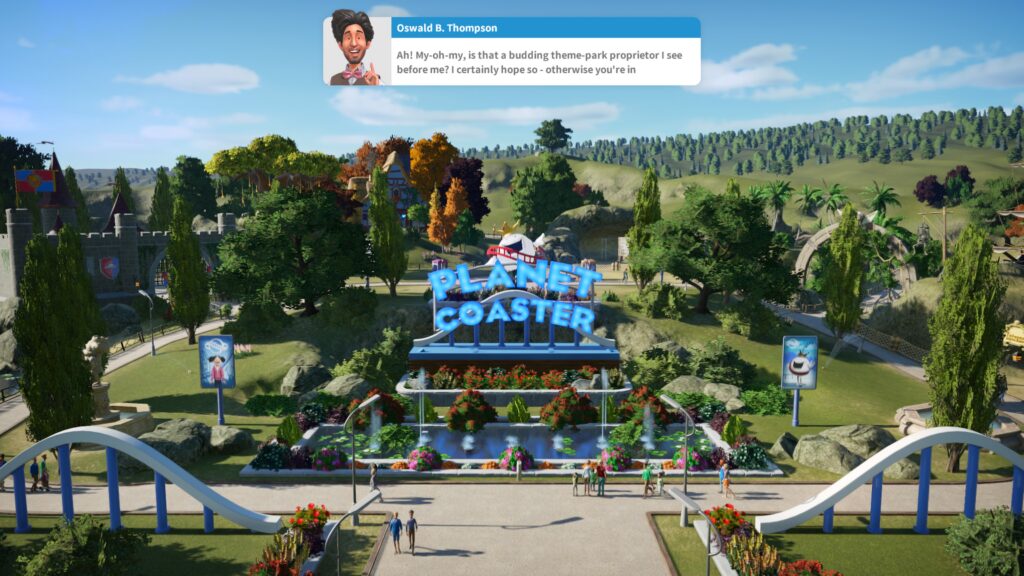 This Game mode is quite similar to career apart from starting with a pre-built park you will have to make it yourself. You can set the difficulty from easy to hard which will determine how much money you are given as well as how long your customers will find the park interesting.
Players are also given objectives that get more difficult as you progress. Completing these challenges will grant players access to things like more money so that they can improve their park a lot quicker.
Sand Box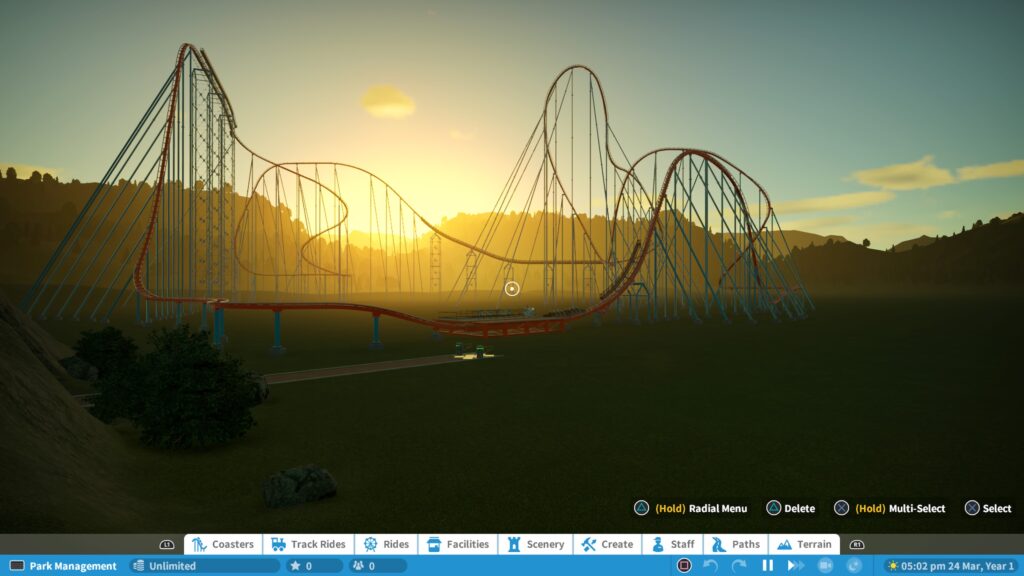 The last and probably most fun game mode to play is Sandbox. Just like the challenge mode, players get a fresh plot to build upon, choosing what environment to set it in. But unlike challenge mode players have no objective and an unlimited source of money.
The most fun to have in this game mode was definitely building the roller coasters. Just because of having that unlimited amount of money and land so you didn't have to worry about going over budget.
It was very fun experimenting with the different tracks and changing their speeds and heights. It is quite difficult to build but very rewarding when you witness your coaster working for the very first time.
When setting these tracks as well as paths in the game though it was quite challenging and tedious. They would sometimes go too far over, meaning I had to go back and delete a few to make it join up.
Great Customisation Options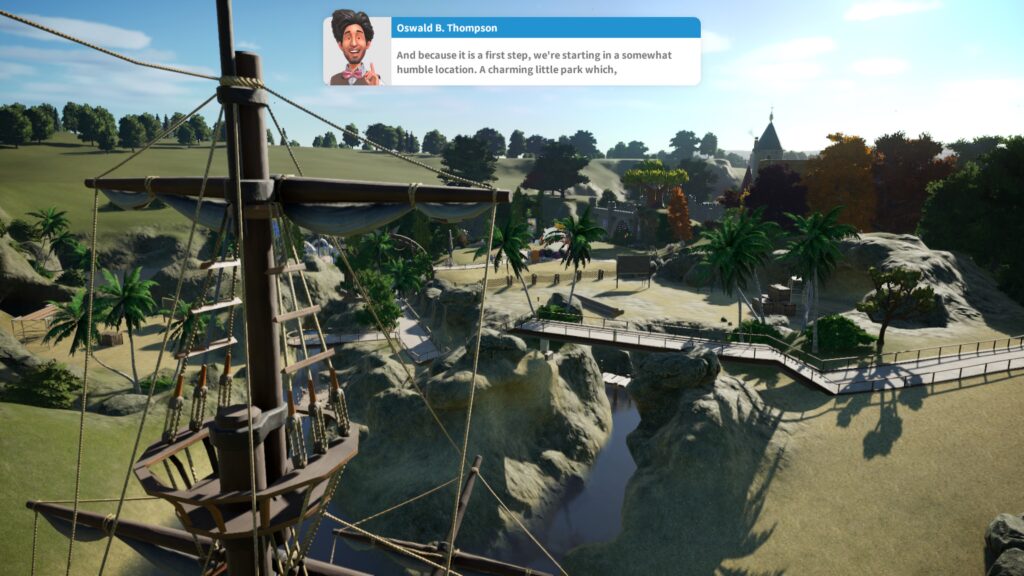 Players can have various choices in rides to include in their park. These can be flat slow rides or fast paced roller coasters. You get these in the game with the in-game blueprints. However, players can also create their own roller coaster & they can also save their coaster as a blueprint which they can import to another theme park afterwards.
As well as this, players can add scenery to the rides which can help boost its popularity and earn more money. Players can add scenery that has a certain theme, like pirates, with a choice of having statues or SFX like lighting or pyrotechnics. These can also be saved as a blueprint in addition to the rides.
Speaking of money, players also have the option to change the prices on their rides, shops as well as entry fees. This can effect your customers though if there is a dramatic change (just like in real life).
Verdict
Planet Coaster Console Edition (Get it here) is a great game for anyone who loves theme parks. With its massive choice in customisation, whether it is how you choose to run the park or by how it looks environmentally as well as the scenery you put in.(If you want the Steam PC version of Planet Coaster then you can get it at 60% off here)
There are some problems I had though. There was one instance where I had to restart the game after it froze when trying to use the multi-select feature. Apart from that and a handful of other small problems this is a great game that I would highly recommend playing for roller coaster fanatics.
A warm thanks to everyone at Frontier Developers PLC for supplying us a copy of Planet Coaster. Planet Coaster is available on .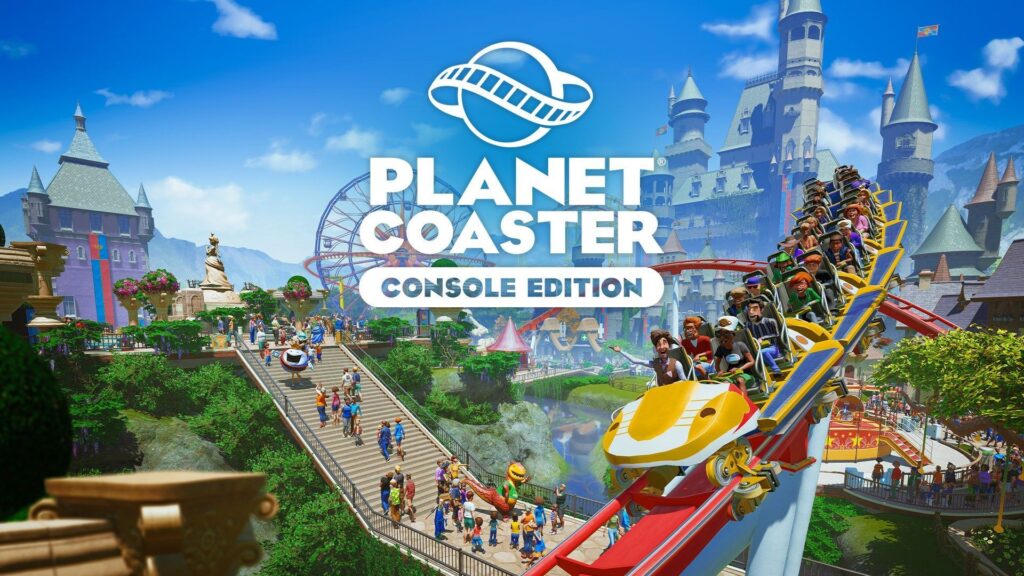 Summary: The future of coaster park simulation games has arrived! Surprise, delight and thrill incredible crowds as you build your coaster park empire – let your imagination run wild, and share your success with the world.
Genres: Simulation, Strategy
Platforms: PlayStation 4 (Review Version), Xbox One, Xbox Series X/S and Mac.
Developers: Frontier Developments
Publishers: Frontier Developments
Initial release date: November 17, 2016 (PC). 10 November 2020 (Consoles).
Planet Coaster Console Edition
Pros
Massive customisation options & choices
Really enjoyable to play especially for theme park fanatics
Entertaining & varied game-modes
Cons
Building tracks & paths in the game can be quite challenging and tedious
Occasional freezes & bugs
Won't necessarily appeal to new or casual players of the genre
Good job! Please give your positive feedback 😏
How could we improve this post? Please Help us. 💡