Stellaris is the super popular strategy game by Paradox Interactive, and it's getting a tabletop game! Set in space, Stellaris involved managing your own galactic empire and required diplomacy skills, warfare, and exploration. It's renowned for its complexity and has a huge fanbase.
Stellaris Infinite Legacy Kickstarter
Capitalising on the success of the games, Paradox Interactive have partnered with Academy Games to create a tabletop version. Entitled 'Stellaris Infinite Legacy', the game launched on Kickstarter, and was fully funded in just 56 minutes. With an initial target of just $50,000, the game has far surpassed that. At the time of writing, the game has reached $1,421,000 which means it's now passed £1 million. Considering that the project has been live for less than 24 hours, it's likely that the numbers will go much higher.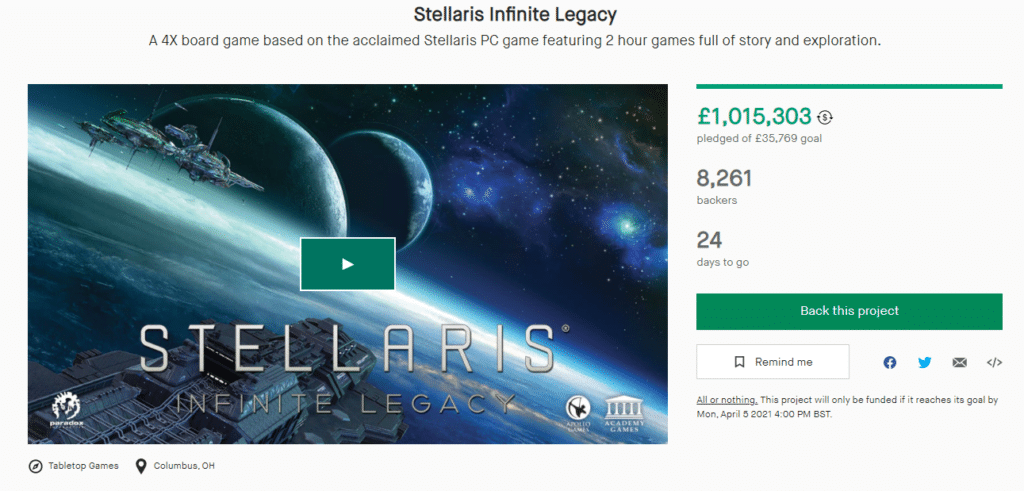 Strategy games are often perfect candidates to become tabletop games. There are a growing number of board game enthusiasts who prefer more complex gameplay. A couple of decades ago, board game nights would mean a round of Monopoly and maybe some Scrabble. However, these days there are growing numbers of board game fans particularly in the millennial generation. Many of them tend to prefer games with more strategic thinking, and so games like Settlers of Catan and Ticket To Ride are increasingly popular.
Stellaris already has a strong and eager fanbase, as is shown by how quickly the Kickstarter goal has been funded. The game released a captivating trailer that showcases the game components in a cinematic style. Staying true to the ambience of the original game, Stellaris Infinite Legacy looks to be a fine addition to the series.
For those of you who haven't played Stellaris, Humble Bundle is currently doing a deal that includes the base game and the DLCs.