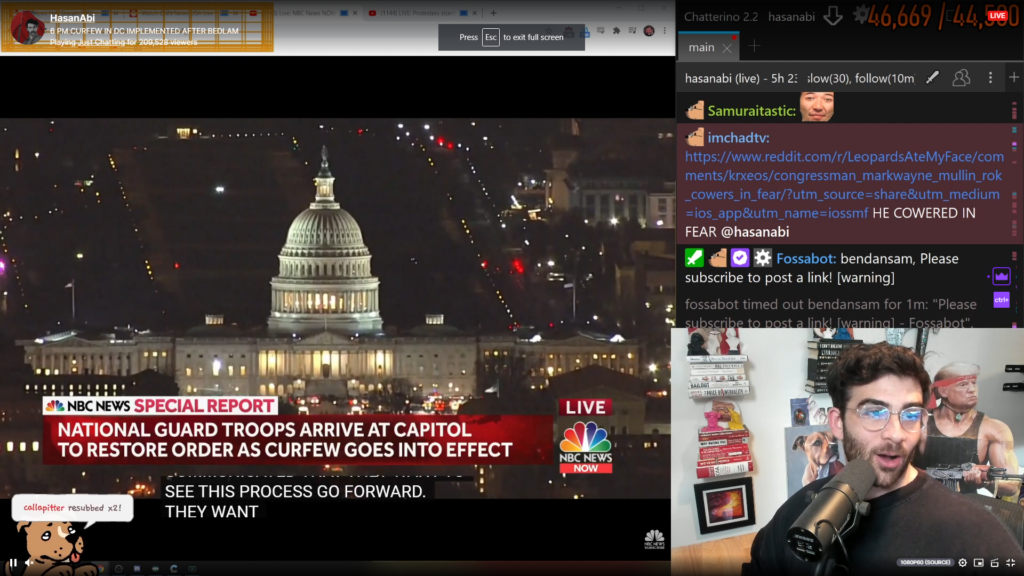 Pro-Trump insurgents recently raided the US Capitol building. While many tuned into cable news networks. The event would take over Twitch as hundreds of thousands would visit popular political streamer HasanAbi. While many more tuned into other Twitch channels.
As HasanAbi and his viewers watch the madness unfold on NBC News. Hasan discussed the events and the network coverage of the story.
In one part Hasan mocked NBC's delivery of the story sarcastically calling an edit of footage from the raid as a "Hollywood Reel." and that they even got a score as violin music could be heard playing.
Twitch More Than Just Gaming
HasanAbi further expressed his disgust with the storming of the Capitol building. While watching coverage from ITV News.
There's something that should be said for the popularity of Hasan's stream. As he offers viewers further discussion of both the story and delivery of the coverage from networks. It's no wonder the channel reached number 1 on Twitch as HasanAbi offers great food for thought for the viewers.
If you found this article useful why not check out our other work such as Microsoft Actually Offered to Buy Nintendo and it Did Not Go Well. Or Cyberpunk 2077 Has Lost 79% Of It's Steam Player Base In A Month. Head over to our YouTube Channel for even more content. Thanks for reading VeryAli!
Like our content and want to support our work? Then you can help support us by using the creator code/tag VeryAli on the Epic Games Store. Or Fortnite's in game-store, and/or directly donation through Streamlabs/VeryAli. We really appreciate it & it really helps us keep going during these trying times.