Pre-orders of both next-gen consoles were sold out almost instantly, and both are launching mere days apart this November. However, according to a Google Trends data analysis conducted by the well-respected SEO and marketing firm, The Hoth, it looks like Xbox may be taking the lead early on and outsell Sony's Playstation 5 by as much as a 2:1 margin, by the end of the year.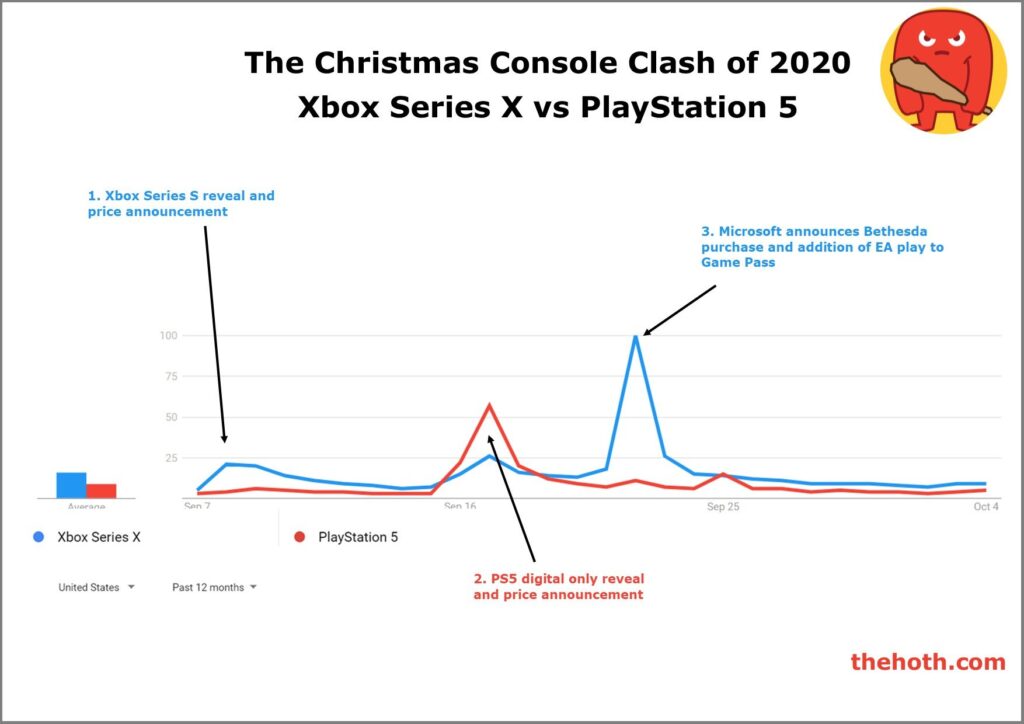 Both Playstation and Xbox were searched for more after each companies' respective announcements. However now that the dust has settled, and both companies have shown almost all of their cards, the search trends reveal that prospective customers are showing more interest in Xbox and that Xbox is more likely to outsell Playstation by the end of this year.
CMO of the Hoth, Clayton Johnson, explained further saying: "It's been seven years since the last console war and statistics indicate that Sony was by far and away the big winners selling twice as many PS4s as Microsoft did Xbox Ones. If this trend data is anything to go by, it looks like the pattern will be reversed, at least for the first Christmas, but as we know this can change in an instant!
With video games now one of the biggest forms of entertainment in the world, it is essential for us as an SEO firm to stay up to date with the latest video game trends, and I'm really excited to see what this new generation has in store and what the wider influence on society will be."
Next-Gen Console War
With the launch of next-gen consoles being just around the corner, both companies are stirring up their marketing campaigns. Microsoft just announced their acquisition of Bethesda and hinting that more can be expected. Sony on the other hand, just recently revealed the PS5's UI. Both companies are promising an overall enhanced experience on their next-gen consoles.
It is worth mentioning that Xbox has just won Gamescom's "most wanted tech" award. While Xbox may appear on paper to have the advantage. It's safe to assume that nothing yet has been decided, and that we should take the predictions with a grain of salt. It's very likely that both companies may still have more surprises and announcements to make before launch, that may very well turn the tide.
For next-gen experience, you can purchase an Xbox Series X/S on November 10th, or a PS5 later down the line on November 12th. Which console are you planning to buy first? and Why?